This article was originally published in Arabian Gulf Business Insight on 04 November 2022. 
President encourages foreign investors
Follows Saudi and UAE initiatives to boost startups and SMEs
IMF recently provided $3bn for government to promote job creation
Egyptian President Abdel Fateh Al-Sisi has announced that Egypt will accept all applications from investors for "Golden Licenses" for the next three months, in a bid to spur private investment in the Arab world's most populated country.The Golden Licenses allow foreign investors to buy or rent land, operate and manage projects, and allocate the necessary facilities for them, all with a single approval.
Sisi's announcement came just days before fresh data emerged from S&P Global suggesting that Egypt's private sector outlook is the worst it has been in months – and is expected to decline further.
According to Egyptian law, the Golden Licenses, created in 2017, can be granted to companies that are incorporated to set up strategic or national projects that contribute to the achievement of sustainable development.
Sectors include the electricity and renewable energy sectors, transport, industrial, health, communications, housing and utilities, tourism and defence.
Egypt has been courting international investment and pursuing deregulation of its private sector for years.
A recent deal with the International Monetary Fund to provide $3 billion in financing was agreed with a commitment to "push forward deep structural and governance reforms to promote private sector-led growth and job creation".
Anja Engen, emerging markets policy analyst at Access Partnership in London, told AGBI the promise to accept Golden License applications is an "attempt to attract more attention, to achieve and attract more foreign direct investment into the country — whether it's big or small companies".
She continued: "It's a positive step, but the impact of the initiative's implementation remains to be seen, after these months have passed."

Egypt's President Abdel Fattah Al-Sisi says the country will accept applications from investors. Picture: Reuters
Engen drew parallels with other regional markets: "Saudi Arabia and the UAE have also recently published announcements and initiatives related to industry.
"Startups and SMEs play an important role in the UAE's economy, and the temporary license relaxation could be an effort by Egypt to follow suit and boost that pillar of their economy long-term as well."
She added: "This will eventually also enhance competition and improve the private sector from a long-term perspective."
But three to six months is "probably not" enough time to really see any impact, she explained. "We need more information to actually give a proper assessment of this, but three to six months is challenging to see any concrete developments."
Samantha Torrance, head of policy implementation at Access Partnership, said regional and domestic economic dynamics may both play a role in Egypt's decision.
"There's a lot of interregional competition for players in this market. It's not just investors, it's people and skills.
"Policies that try to encourage or attract industry in that way, a lot of the time, are due to competitive pressures as well as the domestic need," she said.
"And certainly, Egypt is in a challenging position from a fiscal and economic perspective at the moment."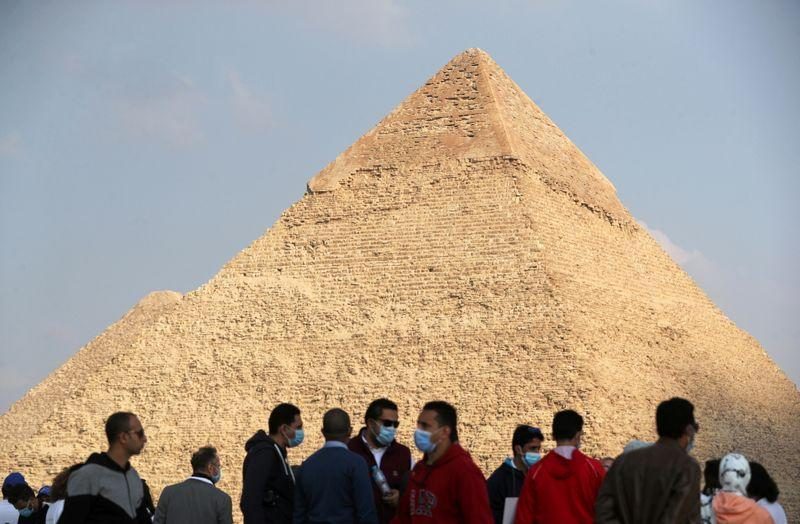 Tourism once accounted for 40% of Egypt's GDP, but the IMF estimates this has now fallen to around 12%. Picture: Reuters
Data released Thursday from S&P Global's Purchasing Manager's Index (PMI) suggests the Egyptian private sector's activity is the slowest it has been in months, and expectations are it will be the worst it has been in years.
"Business optimism among non-oil firms slid to its lowest in over a decade of survey data in October, according to the Egypt PMI, as only 4 percent of firms gave a positive outlook for the next 12 months," S&P said.
"Rising prices, supply problems and weak global demand also served to drive new business and activity lower."
In October there was a "sustained decrease in new business inflows, which dropped solidly to the least extent for eight months," said S&P, adding that "firms suffering a contraction in new orders often highlighted rapid inflationary pressures and a subsequent fall in client spending, including customers from foreign markets."
"Egyptian non-oil activity sunk lower in October according to the latest PMI data," said UK-based David Owen, economist at S&P Global Market Intelligence.
"Despite the drop in sales easing to the weakest since February, firms signalled that the deteriorating local and global economic environment was likely to hurt the non-oil sector even further, with business optimism regarding the next 12 months sliding to its lowest in the series history."
Egypt, struggling to manage its domestic economy, may have seen the success of its neighbours in driving economic activity through similar schemes and followed suit, explained Dubai-based Baha Hamadi, vice president of communications at Deep Knowledge Group.
"The recent 'investor visa' experience of other regional states has proven to be effective and an integral part of government efforts aimed at attracting and retaining investors, companies and talent," Hamadi said.
"I believe these measures have become the norm."
But Hamadi added that if governments want innovation and new business, they should go even further. "To prepare for the next phase of national development, governments should consider more inclusive citizenship programmes.
"New citizens will not take away from existing ones. New citizens will only add value and bring further innovation."